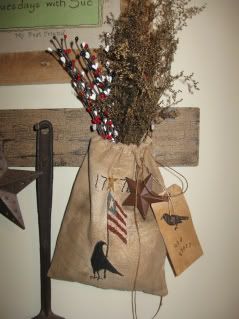 1776 Old Glory Ditty Bag
I have another ditty bag I stitched up, but this one is a Patriotic bag for your holiday decorating, hang it up a knob, nail or hook. I aged up some flour sack cloth with coffee and stitched a flag, crow and 1776 on the front of it. There is an aged drawstring to gather up the bag along with an "old glory" and crow hang tag. A cranberry metal star are also attached by a rusty safety pin. I then stuffed it with some muslin to give it some fullness at the bottom. To finish off the bag I have included red, white and blue berries and a small sprig of Sweet Annie. The bag measures 7" wide x 8 1/2" long and will be signed, dated and copyright 2009 on a tag I stuck inside the bag.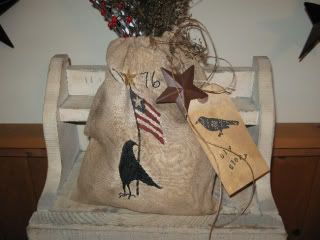 Cost is $26.00 which includes USPS priority mail.
*SOLD*
Email Me To Purchase