Tuesday, December 7, 2010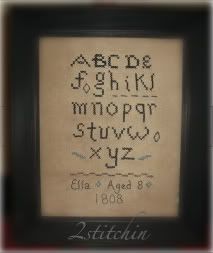 I've been snowed in for 3 days and decided to work up an everyday cross stitched sampler. It is made to look as if a young girl, Ella has been practicing her needlework. She has cross stitched her alphabet along with a few simple motifs, her name, age and the year 1808. A very plain and simple design that I created and stitched on coffee dyed toweling. It is stitched in black, mustard and an old blue. A sweet schoolgirl sampler for your home. I used a black distressed frame with glass and a hanger on the back. The measurements are 10 1/4" wide x 12 1/4" long. It will be signed, dated and copyright 2010. A wonderful piece for the sampler collector!
Thanks for stopping by!
Sold* Thank you Sharon!

email to purchase: twosistersstitchin@yahoo.com

Blessings, Lynn