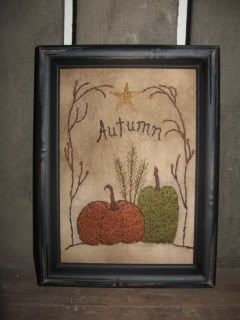 This 5x7 "Autumn" stitchery which was the original model for a pattern that was featured in the TDIPT Mercantile Booklet from last Fall. I forgot I had it until I started digging around in my Fall things. It features 2 pumpkins, golden wheat, bittersweet branches and a mustard star. It comes in black distressed frame with glass and a sawtooth hanger. You can easily prop it up in a cupboard or a shelf if you choose not to hang it. It is signed, dated and copyright 2009.
The cost is $30.00 which includes free shipping.
*sold* But Taking Orders!!
To purchase email me at: twosistersstitchin@yahoo.com